Monika Cichoszewska
Wet plate photography
---Invitation to ambrotype---
I am a Polish female photographer, working with wet plate collodion technique.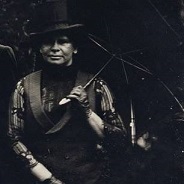 .I am a resident of Poland and live in the city of Wroclaw.Wroclaw is the fourth largest city in Poland. In 2016 it had a status of the European Culture Capital. I photograph bridges in my city using the wet plate collodion technique. There are over 100 bridges and 33 footbridges in Wroclaw making my collodion photography project very interesting. These bridges are old, they remember the old times when wet plate collodion was used.
Apart from the bridges I also photograph streams in the mountains and wherever mother nature puts on the show.I also make portraits as well as nudes, portraing the desire of woman.