Toku-san's Information
Last update 1/1/04 || -> Japanese 04.1.1
---
Name: Shumpei Tokumaru
Birth: 13/11/1959 (Scorpio) Blood:B+ (Age: 44)
Birth Place: Fushimi, Kyoto JAPAN
Lived Place: Kyoto, Tokyo, Chiba, Saitama, and Israel
Address: Fushimi, Kyoto JAPAN
Major: Earth Physics (Weather forecast etc...)
Job: Computer Software Engineer
Qualification: EDM 1st class / Electric Approval 3rd class / English Certificate 2nd grade / Bookkeeping 2nd grade / English Bookkeeping 3rd grade / Driving License
Ability: Hebrew speeking / Typewriting
Hobby: Study Languages and ELECTONE (YAMAHA electric organ)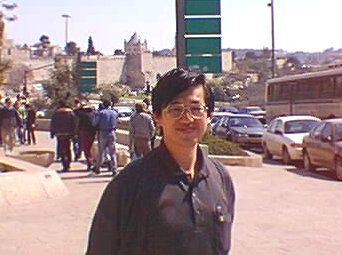 For 15 years I have been a general engineer for projects which import computer softwares from Israel, and visit there 26 times, for 3 years and half. (The picture is in Jerusalem).
Recently I can not get permission to Israel from my company, so I miss Israel very much.
I love foreign languages. I can speak English so so, Hebrew (Israel) with many laughing, Korean and Slovene with many troubles, German and Chinese only for greetings. And French, Spanish, Italian, Portuguese, Russian, Thai, and Dutch are only some words. But I gave up for Persian (Iran), Sinharee (Sri Lanka), Irokano (Philippines 2nd), and Arabic. ... means I can speak only English !!
---
written by Shumpei Tokumaru - http://www2f.biglobe.ne.jp/~tokumaru/